On this page, you will find inspirational quotes, personal stories, and articles. Please share this page with anyone you know who needs help coping through this crisis.
By: DeeDee Naumann and Sophia Esposito, Pillars with Purpose
Harvesters, the local Kansas City affiliate of Feeding America, was looking for volunteers to help with the Stamp Out Hunger campaign. Our associate Ms. DeeDee Naumann and her daughter, put in 50 volunteer hours helping complete this work. Stamp Out Hunger was a stay-at-home volunteer opportunity done in conjunction with the National Association of Letter Carriers.  Ms. Naumann and her daughter picked up boxes with 7000 plastic grocery bags and envelopes to aid in a food drive for Harvesters. In total, Harvesters gives out around 600,000 bags/envelopes. Asking Ms. Naumann a little about the project she said,
"We folded each bag around a donation envelope, and then returned them. Those will be placed in all mailboxes in the region. The letter carriers then come back on a Saturday and pick up food donations in the bags, or the envelopes can be used to make monetary donations.  It was a 50 hour project, done safely from home and on our own time, which was convenient for us, but so helpful for Harvesters."
Harvesters is still in need for volunteers, so if you are near Kansas City and want to volunteer, go to harvesters.org/give-time and follow the steps. Right now they are doing shifts of 2 hours, 30 people per shift. This allows them to follow the social distancing rules and regulations.
By: Robbe Bendick, Pillars with Purpose
In a time where we are all providing quality care across the country, I stumbled across this article and thought it was a great way to maybe treat yourself and continue to support your communities! Use the following link to shop. https://standtogether.org/2020/04/08/gifts-that-matter-in-the-wake-of-social-distancing/?utm_source=Facebook&utm_medium=Display&utm_campaign=M2020081&utm_term=PageEngagers%26Lookalike
By: Joey Lee and Gregory Redfern
   The CD at our Beacon Clinic, Joey Lee, has consistently been proactive regarding the safety of his patients and team. The image is an example. He has opened up a process for patients to donate masks to be shared with those needing one. It has generated a great response!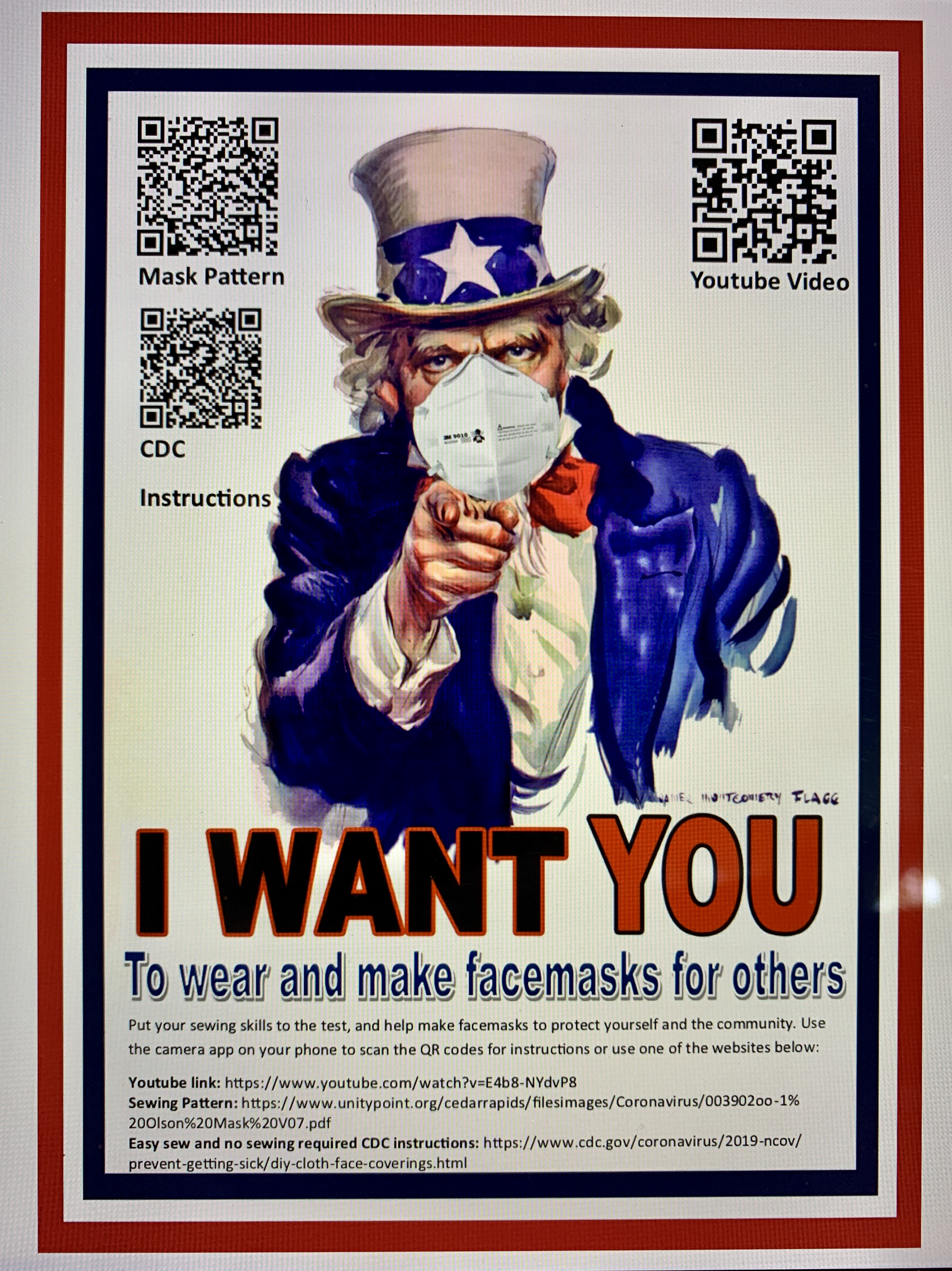 Little Gifts of Encouragement
By: Robbe Bendick, Pillars with Purpose
          We are a local family and nanny trying to navigate through this pandemic.  If you are like us, you are staying home every day, learning how to do school in a new way, getting outside for exercise whenever the weather is nice, and trying to find joy in the little things.  It doesn't feel like we have a lot of opportunities to help, even though we would like to do something!  Remembering that staying home is helping, can be a crucial component in saving lives right now.   Getting creative and finding ways that we can help can also be a blessing.  Encouraging others is one of the only things that some of us can do during these difficult circumstances. 
           For us, it all began with taking the time to stop and be thankful for what we have.  Taking notice of what we did have instead of focusing on what we were lacking, helped us to have a more joyful and positive perspective.  Then we turned around and asking ourselves "what can we do?" to help others who might be having a more challenging time than we are right now.  We live in the town of Camp Hill and there is a local elderly care facility nearby.  Recognizing the fact that people cannot have visitors right now and that it might get lonely, led us to our small project.  We decided to make some cards for the residents who live at the home in an attempt to brighten their day and to let them know that we care about them.  Watching the children draw pictures and write nice notes for others was a blessing in and of itself. 
           As much as we all want to help right now, it is important to recognize the need to do things safely and properly.  We didn't drop off cards the same day that we made them.  We wanted to be sure that we followed protocol and didn't unintentionally do more harm than good.  Reaching out to our town's senior living facility by email was our next step. We found that they were more than happy to accept our little gifts of encouragement and even gave us the idea to bless the staff at their establishment with cards and posters as well.  We were more than happy to!  What an amazing gift that healthcare workers and caretakers are giving others during this time.  They are selfless heroes.  After receiving communication about how to properly drop off the cards, we finished our drawings and notes of encouragement and were able to deliver them safely to the doorman. 
           Thinking about how it might put a smile on their faces gives us a lot of joy.  We hope that each person is encouraged and feels appreciated.  There are so many ways to encourage the ones we love, our neighbors and even those we've never met before.  While walking down Main Street today, we saw many signs that businesses have put up to encourage our town residents.  We've seen messages of hope and love on the sidewalk in chalk that can brighten another's day.  We've heard about people putting Christmas lights up, just so that neighbors have something beautiful to look at in their communities.  We use Zoom and Facebook to touch base with our family and friends.  We've heard of many who are calling or texting someone different every day, just to check up on them and tell them that they are thinking of them.  Taking the time to reach out is what will make all the difference and quite likely, a written personal note on a hand-drawn card can make someone feel remembered and can go a long way!
Staying Busy While Living Alone
By: Sophia Esposito, Pillars with Purpose
As someone who lives alone, this quarantine time can be difficult for me. Some things that have helped me get through the passing days are:
1.   Talking to my family. I talk with multiple members of my family daily. We actually just set up a family zoom call, so all eight of us can be on at once. It really helps seeing them and even though I am hours away, I feel like I am with them.
2.   Working out: We still have the ability to go outside for exercise, so take advantage of that! I try to go run/walk twice a day so I am getting out of my apartment, getting fresh air, and staying healthy. Do this by following the guidelines and social distancing yourself. I also do workouts through Power Train Sports and Fitness. The workouts are streamed for free on their Facebook page.
3.   Read. Right now I am using this time to read a few books that I had on my list for awhile now. Challenge your brain and keep it sharp!
4.   Learning a language: I have always wanted to learn my heritage languages, Greek and Italian. So I started with Italian and found some free online classes!
5.   Take a break: Sometimes it can be tough to sit around all day and not be able to go anywhere. It gives my mind a rest and allows me to refocus on myself and my health. I turn off electronics during this, set a timer and just relax and deep breathe.
I hope some of these tips and tricks that I have found useful will help you too! Stay safe 😊
Need some help thinking of things to keep yourself busy? Check out this blog post with 75 ideas to stay busy! https://www.bostonglobe.com/2020/04/03/magazine/75-things-do-while-coronavirus-has-you-stuck-home/
 

Click here to read a piece written by our own Linnie Law.
Associate Photos: